Maximize Your Online Presence: Increase Sales While Adding Value To Your Prospects
By Amanda Holmes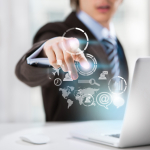 There are over ONE BILLION websites currently active online. That means you are competing with ONE BILLION other sites for visitors attention. And to make it more difficult, even if you finally get them to visit,
55% of visitors spend fewer than 15 seconds on your website. (Hubspot 2014).
That means for all the money you spend to host it, maintain it, market it, pay for ads to advertise it… More than HALF leave without a chance to read even one whole sentence. So the QUESTION is… How are you going to GRAB the attention of your potential buyers, and KEEP them longer than 15 seconds?
The answer: focus on THEM, not on YOU. Most businesses talk about themselves. Their products. Their services. Who THEY are. If visitors are leaving your site in 15 seconds, the only way you're going to grab them is talking about their pains, their needs, and their desires. This concept is the KEY to building a website that will unseat your competition.
STOP SELLING, START EDUCATING.
Take this example, if you went to a coaching company's website and the page started by saying:
---
"Our coaching team is made of professional, executive coaches that focus on generating results for clients. Our coaches are highly trained, often running successful businesses of their own, have experience and have proven themselves to be the best at creating a context for results.
If you want to learn more, schedule a free talk here."
---
How interested are you? Has anything caught your eye? Would you stop to read more? Did you even read the few sentences that were there or did you already skip over it?
Now what if you saw this instead:
---
Why is Coaching Important?
Michael Phelps is arguably the greatest Olympians to ever live.  He has 22 Olympic medals, 18 of them GOLD.  In fact, he has DOUBLE the number of gold medals than his closest competitors.
So WHY does someone who has mastered his trade ranking in the top .001% in the WORLD, have 3 coaches to help him? Why? Because top performance requires a strategic edge, and his own eyes can't provide the perspective of an outsider. That's why 75% of Fortune 500 CEOs have an outside expert to guide them in their businesses.
So What are the 4 Things that a Coach Does for You?
ACCOUNTABILITY: Having someone hold your feet to the fire to make sure you're executing, progressing, and meeting your goals. Do you do a good job already? Wait until you experience the progress achievable with a true master at your side.

EXPERTISE:Knowing that someone else has already had success in what you're trying to accomplish, of course it's going to be an easier process if you have someone with experience to guide you. 

GIVES FEEDBACK:A true coach doesn't tell you what you want to hear.  A coach is there to tell you what you NEED to hear, to improve. Period.

SEE THE BLIND SPOTS:As long as you are working in your business, there will ALWAYS be blind spots –things you don't know that you don't know. You need an outside observer who has been there before to look over your shoulder and bring your attention to what you DON'T see.
Want someone to revolutionize your world? Metrix Global concluded that executive coaching typically has an ROI of 500-700%. We employ and train the World's BEST business coaches to: 
Keep you and your organization working ON your business, not just IN it

Dramatically increase your marketing results to create massive new opportunities

Develop your businesses Core Story™ to stop just selling and start solving your prospects needs

Create a Superstar sales team, processes and tools to ignite revenue growth

Achieve massive results in any business impact area you can think of! 
Schedule a No Obligation Consultation TODAY
---
What's different about this example from the previous one?
It's engaging from the beginning.
It educates the buyer on why they would want coaching even if they didn't know they needed it in the first place.
It adds credibility by referencing third party data.
We switch this conversation for business owners CONSTANTLY. We incorporate this principle into webinars, websites, and sales scripts. Talk about your buyer, not you. Education based marketing is an unbelievably powerful tool at it's finest and your website is a great place to start wielding it!
 MORE EXAMPLES
Here are some business owners and clients who have incorporated this key technique:
http://www.earthkind.com/ -Click on the Learning Center to see Kari's education portion, have you ever seen a rodent repellant company be so thorough in their education? This is one of the techniques they used to go from $800,000 to $2.4 million in 8 months. That's TRIPLE her revenue in less than a year! Educating the major distributors in the market made her Dream 100 strategy highly successful in a very short amount of time.
http://medicaloptics.ie/ -Look at the links to the left, a wonderful array of Free reports that add VALUE unlike any other Optician. Doug said his sales increased last year by 20% which is a much better growth than the Irish economy which was only 3.4%. He credits his new online ad campaign using his free reports to provide value for his visitors, entice them to come to his site, and read further, instead of talking solely about his business' product and services. No other Opticians are this advanced in their marketing efforts.
http://sorensenwealth.com/ Sorenson is a great example of someone who has really mastered this distinction. GREAT education. Financial planners do not normally provide this kind of value. Because of that he has a competitive edge above his competition and truly sees results from his website.
FURTHER EDUCATION
If you're the type of business owner that likes to take the fast track and have an expert guide you, contact us to see where we can assist you to master this distinction and increase your sales. If you want to read more about education based marketing, and the power of a Core Story, you can purchase our New York Times Best Seller "The Ultimate Sales Machine." Or download some more of our free education in our Training and Tools tab on our website.