The Final 4: Four Q4 Strategies to Make the Most Out of Your Year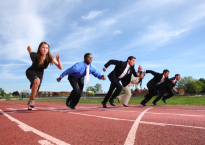 Well you made it to the top of the 4th and you're staring down the race track to the close of the year. Now what? The 4th quarter is traditionally rapid fire or dead slow, so if you know what your business is probably up against in this final push of your fiscal year, you're already ahead of the game. Staying there is where the "real magic" happens for small to medium-size businesses.
We promise you this down and dirty set of tools is worth the effort they will take to execute, especially when you take into account the 2014 US Economic Outlook which paints a LESS THAN rosy picture, "Economic instability, political deadlock, the business community's mistrust of the government, concerns over its fiscal health, deterioration in the development of its financial markets, and a weak American dollar have cut into corporate America's bottom line."
Here are 4 MUSTS to take into account when planning a winning 4th quarter:
REVIEW YOUR STRATEGIC PLAN:
Stop and review your 2013 goals. What did you achieve and what is left to do? What worked and what did not?
Prioritize and reset your year-end goals quickly 
ESTABLISH 4TH QUARTER NEXT STEPS:
Develop your year-end forecast (be realistic on what you can accomplish)
Be clear about what you want to achieve going into Q1 of 2014
Identify  what 3 actions must be completed in Q4 to set you up for success in achieving your Q1 goals 
MOTIVATE YOUR TEAM: 
Communicate where you are with the entire staff and where you need to be at the close of the year (We highly recommend doing quarterly Town Halls.)
SHARE and CELEBRATE what you have achieved and ENJOY your success with your team, praising their hard work and accomplishments toward the company's goals
 PLAN AHEAD NOW:
Review your 2014 plan and tweak as needed now that you have the final segment coming on to properly analyze your successes and failures of 2013
Develop your action plan and roadmap to achieve your goals for next year
Get everyone on board and create performance metrics that you can use monthly (or more often) to pulse check what track your business is on in reaching the goals set
This will give you a "head start" on 2014, and will help reduce your stress and year-end craziness. While this seems easy, it will help to "get away" for a few hours and really focus on developing your game plan. We guarantee this helps make your year-end and 1st quarter next year so much more productive and rich with goal accomplishments.
By taking the appropriate action steps to control your businesses' fate rather than being tossed to and fro by the unrelenting tides of economic turbulence, you'll find not only seas of success but also peaceful waters for you to explore and use to energize your business.
One final note, as you head into 2014 remember that one thing experts say is clear, "America's future economic growth will depend on its ability to innovate, create, and reinvent the way it does business. And it will need to meet the growing and evolving untapped demands of an increasingly challenging global environment."
Answer this quick quiz and see where you're 4th quarter planning lines up with other business owners.
Side Note: Share your 4th quarter plan epiphany with us on Twitter @ChetHolmes and Facebook. It may help motivate your business owner peers and spark new innovative ideas for your own business all in the interest of sparking our entire economy for the greater good.
To your success!
The Chet Holmes® Team